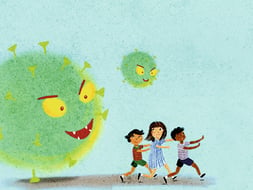 1. What is the Coronavirus Disease 2019 (Covid-19)?
Coronaviruses are a large family of viruses that cause illness ranging from the common cold to more severe diseases such as Middle East Respiratory Syndrome (MERS-CoV) and Severe Acute Respiratory Syndrome (SARS-CoV). The Coronavirus Disease 2019 (Covid-19) is a new strain that has not been previously known in humans, has been identified in China. The Covid-19 has caused cases of severe pneumonia in China and cases have been exported to other cities and countries.

2. What are the common signs of infection for Covid-19?
Common signs of infection include respiratory symptoms, fever, cough, shortness of breath and breathing difficulties.

3. If I transit in China without leaving the airport, am I considered to have travelled to China?

No. With reference to Singapore's Ministry of Health's (MOH) circular 15/2020: "transit only in an airport located in mainland China is not considered as having travelled to mainland China."

4. I'm a Singaporean citizen and I need help overseas from Ministry of Foreign Affairs (MFA)
You can call their 24 hour hotline (65) 6379 8000 or visit this website for the contact details of the nearest Embassy, High Commission, Permanent Mission, Consulate-General/Consulate and Trade Office.

5. What is considered close contact?

Ministry of Health's Director of Communicable Diseases, Associate Professor Vernon Lee, said that "To be a close contact, you have to spend a reasonable amount of time in really close proximity - usually around 2m - of the person. You need distance and time, it is not just casual contact like brushing past or walking by, in a transient kind of moment."

Source: The Straits Times


6. How do I contact MOH for clarifications on whether a leave of absence for children is required?

You may call the MOH hotline at (65) 6325 9220.

7. What is the difference between a Home Quarantine Order (HQO), Leave of Absence (LOA) and Stay-Home Notice (SHN)?

Home Quarantine Order (HQO) - A HQO is served to healthy individuals who have a higher risk of exposure to the virus, such as someone who has close contact with an infected person. HQOs have legal force, with severe penalties for non-compliance. Quarantine usually occurs in the home but can also be served in dedicated Government Quarantine Facilities (GQFs) or hospitals, should the individual not have suitable accommodation in Singapore.

Leave of Absence (LOA) - An LOA is also issued to students and staff who are healthy, but have recently travelled to Mainland China. So it is a precautionary measure. Although LOAs are not legally binding, we strongly urge those on LOA to be socially responsible and comply with the LOA, to prevent possible transmission of infections. Students and staff on LOAs are not required to stay at home and be isolated at all times. During the LOA, students and staff are expected to:

Stay-Home Notice (SHN) - Those placed under the SHN are not under quarantine orders; and are not required to have a dedicated room and toilet if this is not feasible. However, they should remain in their place of residence. Persons on LOA are allowed to leave their place of residence to purchase daily necessities or to attend to important personal matters. Persons issued a SHN must remain in their place of residence at all times.

8. Are vendors, canteen staff, freelance coaches also covered under the LOA measure?


Yes. The LOA provisions cover teaching staff, non-teaching staff, such as administrators, and other non-school staff, including canteen vendors, security guards.